Micro-Tech-Lab Newsletter from 20.11.2009
Macro Stand 2 – the innovative enhancement of Macro Stand 1
We have refined our tried and trusted macro stand to make it even more user-friendly!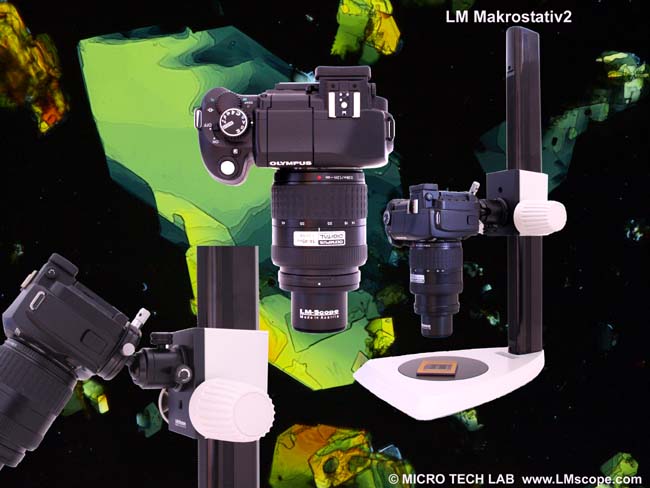 n combination with our macro lenses (40 mm and 80 mm), any digital SLR camera can now be easily transformed into a microscope. Any type of lens is suitable for use, including lenses with diameters of 75 mm and over. The LM Macro Stand 2 has a ball head, which means that the camera is able to move with complete freedom.
Even with angled specimens it is now possible to adjust the optical axis so that it is always at right angles to the object plane. This way, a far greater area of the object can be depicted in sharp focus than was previously the case.
To increase the workflow, the LM Macro Stand 2 has a quick-release camera attachment plate. The camera can now be fitted to or removed from the stand with only a single hand movement.
As a result, the new LM Macro Stand 2 is extremely versatile and, for photographic documentation up to a magnification of 3:1, is clearly superior to many stereo microscopes in terms of image quality.
The height of the stand is 500 mm; the stand's body is made of light grey powder-coated die-cast aluminium. Its overall weight is 2.5 kg.
The LM Macro Stand 2 has been available for online purchase since June 2009 at a price of € 790.00 excl. VAT.
[For more information]
New LM Digital Adapter for:
Nikon D850 / Sony Alpha 7III / Sony Alpha 9 / Nikon D5 / Sony Alpha 7S II / Sony Alpha 7R II / Sony Alpha 7R III / Sony Alpha 7S / Canon EOS 5D Mark IV / Nikon D750 / Canon EOS 6D Mark II / Sony Alpha 6300 / Sony Alpha 6500 / Nikon D500 / Canon EOS 1D X / Nikon D810 / Nikon D4s / Nikon D800 / Nikon D800E / Nikon D4 / Nikon Df / Nikon D610 / Nikon D600 / Canon EOS 6D / Canon EOS 5DS R ( without low-pass filter) / Olympus OM-D E-M1 Mark II / Canon EOS 80D / Canon EOS 5DS / Sony Alpha 77 II / Canon EOS 70D / Nikon D7200 / Canon EOS 200D / Canon EOS 800D / Rebel T7i / Canon EOS 77D / Canon EOS 5D Mark III / Canon EOS 60D / Sony Alpha 7R / Sony Alpha 7 / Nikon DS-Qi2 (Microscope Camera) / Nikon D3x / Olympus OM-D E-M1 /

Related Links

--