Micro Tech Lab
Professional solutions for digital micro and macro photography
FAQ: I would like to use a digital SLR camera on my microscope's eyepiece tube. Isn't the camera too heavy for the tube?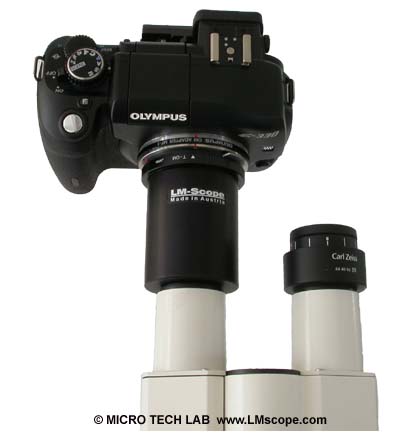 Modern digital SLR cameras weigh about 0.5 kg. LM digital adapters with a push-on sleeve are specifically designed for use with eyepiece tubes. The strong, stable design of the LM digital adapter and its high-quality materials guarantee that it can be used to best effect on an eyepiece tube. Further information on the performance features of digital adapters can be found on the following page:: Performance features and advantages of LM digital adapters
As the forces from the LM digital adapter are transferred to the microscope eyepiece tube over a large surface area, there will be no damage done to the microscope. The integrated plan achromatic hard-coated lens of the LM digital adapter corresponds approximately to the visual field of a 10x eyepiece.


Caution! This manual is protected by copyright. Unauthorised reproduction thereof, in whole or in part, is punishable by law. Only use with MICRO TECH LABís approval.
New LM Digital Adapter for:
Nikon D850 / Sony Alpha 7III / Sony Alpha 9 / Nikon D5 / Sony Alpha 7S II / Sony Alpha 7R II / Sony Alpha 7R III / Sony Alpha 7S / Canon EOS 5D Mark IV / Nikon D750 / Canon EOS 6D Mark II / Sony Alpha 6300 / Sony Alpha 6500 / Nikon D500 / Canon EOS 1D X / Nikon D810 / Nikon D4s / Nikon D800 / Nikon D800E / Nikon D4 / Nikon Df / Nikon D610 / Nikon D600 / Canon EOS 6D / Canon EOS 5DS R ( without low-pass filter) / Olympus OM-D E-M1 Mark II / Canon EOS 80D / Canon EOS 5DS / Sony Alpha 77 II / Canon EOS 70D / Nikon D7200 / Canon EOS 200D / Canon EOS 800D / Rebel T7i / Canon EOS 77D / Canon EOS 5D Mark III / Canon EOS 60D / Sony Alpha 7R / Sony Alpha 7 / Nikon DS-Qi2 (Microscope Camera) / Nikon D3x / Olympus OM-D E-M1 /

Related Links

--