FAQ: I use an LM digital adapter with a C-mount connection on a microscope with a phototube and C-mount port connection with a factor of 0.5x (or 0.3x or 0.63x). Despite exhaustive experimentation I am unable to produce a well-illuminated image. The result is always a small circular picture with a black outline.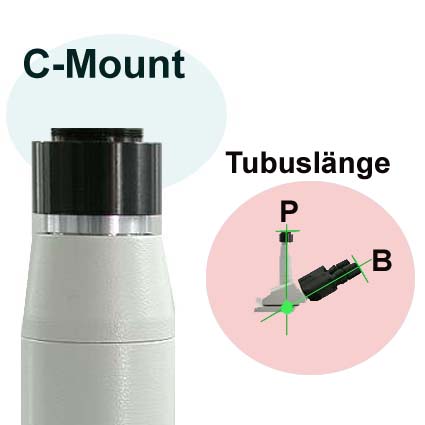 All LM digital adapters are designed to work with a phototube equipped with a C-mount connection and a factor of 1x. If a different C-mount connection (factors 0.3x to 0.7x) is used, the camera sensor will not be optimally illuminated.

The circular image will have a black border. The lower the factor, the smaller the circular image will be. This peripheral darkening is known as vignetting and should be avoided. Vignetting means that the sensor chip is not fully utilised, and this leads to a reduction in the quality of the image.

We offer a C-mount connection with a factor of 1x for a large number of microscopes.

>> Further information is available on the following page

Caution! This manual is protected by copyright. Unauthorised reproduction thereof, in whole or in part, is punishable by law. Only use with MICRO TECH LABís approval.
New LM Digital Adapter for:
Nikon D850 / Sony Alpha 7III / Sony Alpha 9 / Nikon D5 / Sony Alpha 7S II / Sony Alpha 7R II / Sony Alpha 7R III / Sony Alpha 7S / Canon EOS 5D Mark IV / Nikon D750 / Canon EOS 6D Mark II / Sony Alpha 6300 / Sony Alpha 6500 / Nikon D500 / Canon EOS 1D X / Nikon D810 / Nikon D4s / Nikon D800 / Nikon D800E / Nikon D4 / Nikon Df / Nikon D610 / Nikon D600 / Canon EOS 6D / Canon EOS 5DS R ( without low-pass filter) / Olympus OM-D E-M1 Mark II / Canon EOS 80D / Canon EOS 5DS / Sony Alpha 77 II / Canon EOS 70D / Nikon D7200 / Canon EOS 200D / Canon EOS 800D / Rebel T7i / Canon EOS 77D / Canon EOS 5D Mark III / Canon EOS 60D / Sony Alpha 7R / Sony Alpha 7 / Nikon DS-Qi2 (Microscope Camera) / Nikon D3x / Olympus OM-D E-M1 /

Related Links

--